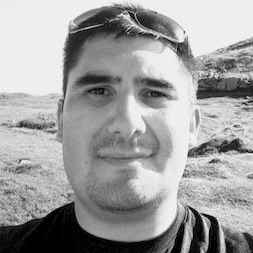 Experiences
Staff Machine Learning Engineer
Genesys Telecommunications 2018 - Present
Senior ML Engineer from 2018 - 2020
I work finding ways to use Machine Learning for improving customers engagement with websites and optimising routing for call centres
Ph.D. Researcher
Fujitsu Ireland Limited 2013 - 2018
Projects KI2NA (2013-2015) and TOMOE (2015-2018)
Research Assistant
Digital Enterprise Research Institute (DERI), Galway, Ireland. Reasoning and Querying Unit (URQ).
Lecturer
Lecturer
Research Intern
Project Engineer
Software Developer
Kimn-IT Ltda, ICT Services, 2010
Variable Information Panels project (VIP) for Public Transportation usin Spring MVC with JQuery
Software Developer
Sigpro Ltda, ICT Services, Summer 2009 and Summer 2010
Few system maintenances and development for government and private (insurance, professional services)
C# .NET, ASP .NET, PHP, JavaScript, Flash ActionScript, Oracle, PostgreSQL
---
Education
Ph.D.
M.Sc. (summa cum laude)

---
Awards & Honours
Recognised as EMNLP 2020 - Outstanding Reviewer [Cover of Proceedings]
Winner of the third Linked Data Mining Challenge, In the 4th Workshop on Knowledge Discovery and Data Mining Meets Linked Data - Know@LOD 2015, Portoroz, Slovenia, May 31st, 2015 [certificate]
Winner of the first Galway Startup Weekend with FriendShip It!! project, Galway, Ireland, November 16, 2014 [certificate]
Winner of the first LD4IE 2014 Challenge with μRaptor system, In the 2nd International Workshop on Linked Data for Information Extraction - LD4IE 2014, Riva del Garda, Italy, October 20th, 2014 [certificate]
Norman Revell Best Paper Award, In the 23rd International Conference on Database and Expert Systems Applications - DEXA 2012, Vienna, Austria, September 3-6, Springer Lecture Notes in Computer Science [certificate]
First of the class, Master in Computer Engineering, Universidad de Santiago de Chile
Master's Fellowship, Yahoo! Research Labs Latin America, Master's Thesis.
Fees Grant for Masters program, Department of Informatic Engineering (DIINF), Universidad de Santiago de Chile
President's Scholarship "Juan Gomez Millas", Ministry of Education, Chile [Between 2000 and 2010]

---
Services
Reviewer for journals: Briefings in Bioinformatics (2019, 2020), Data & Knowledge Engineering (2018), BMC Bioinformatics (2018), SWJ (2017, 2020), J.UCS (2013).
Reviewer for conferences: NAACL-HLT (2021), ACL/IJCNLP (2021), EACL (2021), CIKM (2020), EMNLP (2020), ACL (2020), AACL-IJCNLP (2020), AMIA (2014, 2015, 2017), ISWC (2017), DEXA (2013, 2014, 2019), RR (2013), EKAW (2014), AMECSE (2014).
Reviewer for workshops: LinkedStartUp (2016).